Increasing School Capacity to Meet Students' Post-Pandemic Needs: Findings from the 2022-23 National Partnership for Student Success Principal Survey
September 2023
By Robert Balfanz and Vaughan Byrnes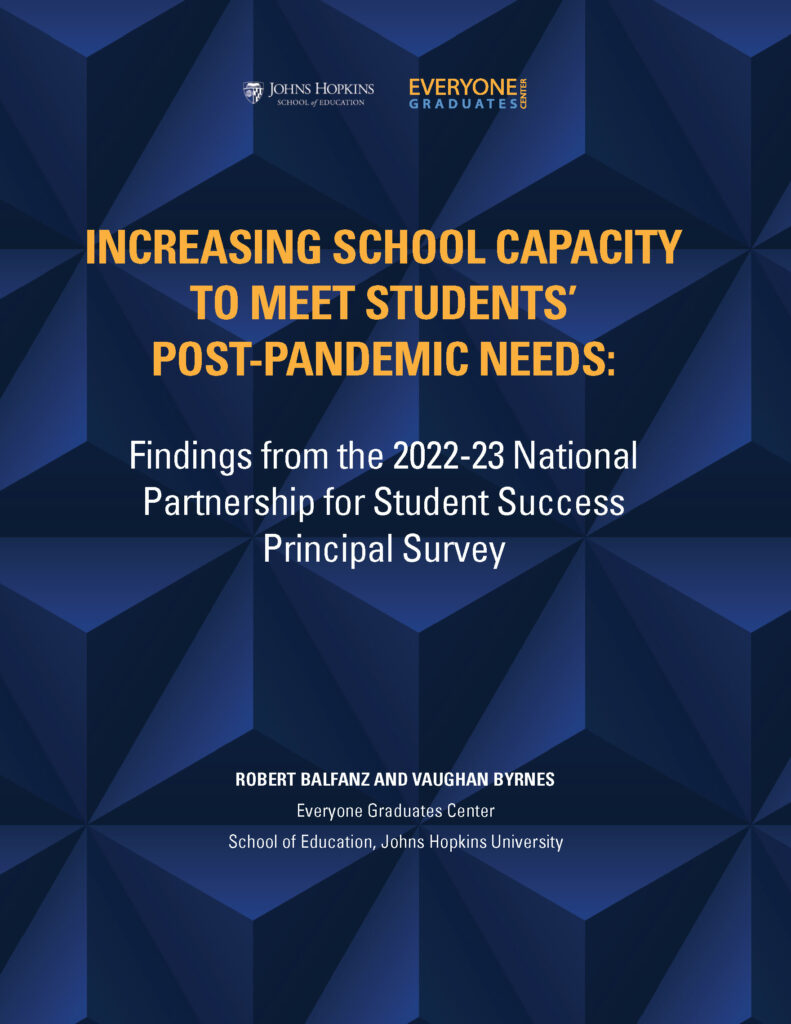 One of the most comprehensive post-pandemic representative surveys of public school principals on the provision of student supports shows that the nation's schools and their partners are working hard to provide students with the people-powered supports they need to thrive in the wake of the pandemic and its aftermath.
This nationally representative survey of public school principals takes a comprehensive look at
the provision and growth of people-powered student supports
to address students' academic, educational attainment, and
well-being needs.
Nearly all surveyed principals reported providing in the 2022-23 school year one of the evidence-based student supports identified by the National Partnership for Student Success (NPSS) as critical to addressing the impacts of the pandemic—high-intensity tutoring, mentoring, success coaching, college and career advising, and wraparound supports.
Specifically:
87% of principals reported providing at least one of the NPSS student supports during the 2022-23 school year.
76% reported enabling at least some students to have sustained supports from adults providing high-intensity tutoring, mentoring, or success coaching, with 53% reporting providing high-intensity tutoring.
81% of high school and 33% of middle school principals reported offering college and career advising.
In addition, large numbers of principals reported increases in the number of adults they engaged to provide these supports during the most recent school year, as compared to the 2021-22 school year.
A third of the principals reported increasing the number of adults providing one or more of the NPSS recommended student supports, enabling them to serve more students.
This translated into an estimated 187,000 additional adults in 2022-23 helping students succeed in school by providing key evidence-based supports. This represents significant progress towards President Biden's call for 250,000 additional adults to serve as tutors, mentors, and providers of other important NPSS-aligned student supports by summer 2025.
This resulted in more students receiving evidence-based supports.
In schools where these supports were provided, 44% of principals reported more students receiving high-intensity tutoring, and 33% reported more students receiving mentoring in 2022-23.
The principals survey also shows that more work remains, and that more adults, including AmeriCorps members, AmeriCorps Seniors Volunteers, college students receiving Federal Work-Study funding, and volunteers and staff members from youth serving non-profits are needed to augment schools' capacity for all students to receive the support they need.
Follow this link to read the full report.